Shared publicly - Nov 21, 17
So recently Ned, aka CastleSiege, has been spreading a lot of bs on the forums lately, so I think it's high time I disproved all of it.
Who is Ned?
Ned, aka CastleSiege, is a player who leads the group known as "Haxor Alliance," that constantly uses hacks on alts in Castle Siege. Occasionally we call them Cracker Alliance, because not only do they use hacks on alts, they also constantly shit post and spam "|\|IGGERS" and "KILL ALL NIGGIERS" in chat.
They claim that the reason they do this is because Castle Siege is "imbalanced" and undead win too much, and that they will stop if Castle Siege is "balanced."
However, I don't believe either of these statements are true. Let's look at the facts.
1. Before the CS update came out, Ned posted this meme to talk about how CS was "imbalanced."
2. In the CS update, defense received
massive
buffs. I daresay that they were overbuffed. But in the end, Ned continued complaining on the forums about defense being underpowered and continued using hacks.
3. When Ned uses hacks in castle siege, he always goes undead and kills defenders and the king. If he really cared about defenders being "underpowered," he'd go defense and kill undead, but he doesn't.
In fact, when I went defense along with some other good players, he immediately started flying around and killing defenders. (Yet he ironically claims that defenders can't win and he's the reason for it kek).
So why do they use hacks? I believe they do it simply for their own amusement. It's fun for them to fly around with kill aura, ruin other people's times, and trigger them with racist slurs.
I've confronted him about his use of hacks on alts multiple times, both on the forums and in-game. I've also compiled evidence against him and put it into a thread in case anyone wants to look at it:
http://castle-siege.enjin.com/forum/m/38084048/viewthread/30792322-haxor-alliance-exposed
Yet when he is confronted about it, he resorts to an ad hominem attack of calling me a "forger" in a desperate effort to dismiss my argument. He has so far never provided any evidence to contradict the claim that he uses hacks on alts, and I don't believe he ever will.
He also bases his claim that I am a "forger" on the fact that I got network banned by Mineplex,
but
TheAulë
,
CtrlAltWhale [τ]
, and
Nrrillinthas
all got net banned for the same thing I did. They also got unbanned when they provided proof of their innocence, but hey, I guess because they all got net banned that they're dirty forgers right????
Main Point: Is CS imbalanced?
So now let's go on to his main point: that CS is imbalanced and defense need buffs. Is it really? Let's look at the facts.
Before the API was privated, Ned's stats showed that he had only played 104 games and had 5 defender wins,
so I'm not really sure how he can claim he knows the game so well and knows what it needs done when he has little to no experience in it.
But I'm not just going to base my argument on his stats; I'm going to look at the facts.
Ned claims that defense lose a lot, and it should be a 50/50 wins for defense and undead. But I think we should take a look at why the defense loses most of the games. To investigate this claim, let's take a more detailed look at Castle Siege.
Player Types
Castle Siege has 2 types of players: New players (around 50-80% of a lobby most of the time) and "CS regulars" (around 20-50% of the lobby most of the time). Most of the time, the team that the CS regulars go on wins the game because they are more skilled than the new players. And the CS regulars overall prefer undead. Why do they prefer undead?
Because undead is much more fun. It's much faster-paced, and defense for the most part is rather boring and consists of bow-spamming and camping.
Ned also claims that the only way to win as defense is to have "10 pros" on the team. Otherwise you will lose.
But in doing so he contradicts his claim that Castle Siege is imbalanced, because he acknowledges that the reason defense wins is
because they have better players on their team
.
I still don't see how he thinks this is an issue. You have a better team, you win. It's as simple as that. If you're really concerned that defense is losing too much, then what you should be doing is trying to make defense more fun so that people actually go defense, but you don't. Instead you use hacks on undead, which causes most "pros" to switch to undead because they don't want to fight someone who flies around with kill aura.
I will be giving some examples here to help explain further.
Example 1
A few months ago, I was playing Castle Siege, and I went defense. Then Nolanz99 (who is also in the Haxor Alliance) joined on an alt and flew to our king.
However, we somehow managed to kill him despite him having regen, and on his return flight he got GWENed.
As you can see, King Sparklez had only 2 HP left, and Nolan killed a lot of good defenders, including myself. Yet at the end we still beat the undead team.
Example 2: Ned's Flying
So 3 days ago I was playing Castle Siege, and my friends and I decided to go defense. I figured that Ned would be happy, since he likes defense winning, but instead he chose to fly to us with kill aura and kill us all.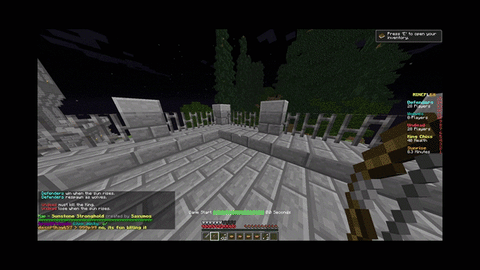 In the end, I was rather laggy and crashed, but when I came back, I was informed that undead won at the last second.
[imh]
https://image.prntscr.com/image/mWhKkpM5SXesl3cw4WLNBA.png
[/img]
That's not exactly what you would expect if the game was so unbalanced that defense can't ever win is it? He then recycles the same old argument: "Defense only almost won because they had 10 pros!!1!!!1!!"
Yes, obviously, defense almost won because they had a better team. We would have won had you not interfered with your hacks you idiot. Don't see how you can say us "undead win farmers" are ruining the game yet you mess up defense's chances of winning.
Final Notes
Ned, you are an idiot. I didn't know anyone could be as stupid as you until I went on twitter.
It's also pretty low that you hide behind a screen and spam "KILL ALL NIGGIERS" in chat. And then on top of that you made fun of Hailey's depression. That's just pathetic.
Nolan
Kinda sad to see you degenerate from the fun-loving chill ex-staff member I used to text to the kid that uses hacks on alts and spams racial slurs.
Epic
I really liked hanging out with you too. You were a nice kid, and it was fun playing CS with you.
Mineplex Staff
You all net ban for tons of reason, including uploading videos of hacking on alts, uploading videos of yourself hacking after 2 weeks (xTyler).
And you can ip ban someone for using 2 alts on the same clans server.
So why is it so hard to net ban and ip ban these kids?
Note From Me For My Friends
I'm done with Castle Siege and will not be returning until Haxor Alliance is either net banned and ip banned, or its members grow some brain cells and get a life, although the possibility of either happening before Mineplex's PC server shuts down is quite low.
I'm also done arguing with Haxor Alliance. They're never going to change, so all the arguments are ultimately pointless. They can keep ruining CS for all I care.